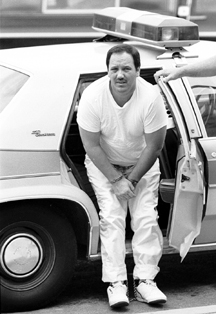 Before they strap me in 'Yellow Mama,' you boys come back. I've got some more things to tell you."
Those were the words of convicted killer Glenn Holladay - already on death row - as he talked with Etowah County Sheriff James Hayes and Lt. Joe Nabors of the Alabama Bureau of Investigation several years ago.
Holladay, now 51, is scheduled to die in Alabama's electric chair at 12:01 a.m. Friday - 14 years to the day his murder trial began for the shooting deaths of his ex-wife, Rebecca Ledbetter Holladay; her boyfriend, David Robinson; and a 16-year-old neighbor, Larry Thomas Jr., on Aug. 25, 1986, in the Tidmore Bend community.
Hayes has made an official request to again speak with Holladay before he is executed.
"My concern is that he has some information that can clear up additional crimes and put some things to rest," Hayes said. "He needs to tell us what he did."
A September execution date was set in 1990 but delayed because of the appeals process.
Attorneys for Holladay have asked the state to grant a stay of execution, claiming he is mentally retarded.
If the sentence is carried out this time, Holladay will be the first person convicted in Etowah County to die in Alabama's electric chair.
In 1989, Holladay recounted another murder for law enforcement officers when he talked with them.
Holladay was never charged with the slaying of Doyle Wallace 12 days after the other three shootings, but he confessed to committing the crime to the officers during the interview.
Police already were convinced Holladay was responsible for the shooting of Wallace - who was Rebecca Holladay's uncle - after finding bullets at the crime scene that matched the gun used to shoot Holladay's ex-wife, Robinson and Thomas.
He told officers of standing on a bucket to look in a window at the Wallace's house and of Wallace's wife, Imogene, hiding in a closet.
Holladay also admitted to being present when Elton M. Barksdale was killed, then burned in his home in Duck Springs on Nov. 18, 1985.
Several law enforcement agencies have closed rape and other investigations after talking with Holladay, even though he was not charged with any additional crimes, Nabors said.
"Glenn was a serial rapist," Nabors said. "He admitted to several rapes throughout the Southeast. We have cleared quite a few rape cases."
In most cases, Holladay watched his rape victims, Nabors said. He observed them over a period of time, then stalked and planned his crime.
That's apparently what led to his October 1986 capture in Florida six weeks after killing his ex-wife and the two others.
Holladay allegedly committed a rape earlier that day in Gainesville and was headed back to his hotel in Lake City, Fla. He stopped on the way, though, and police were called when he was seen peeking in a window at an apartment.
A deputy shot Holladay after he grabbed the officer's service revolver. The deputy was able to get a backup weapon and shoot Holladay.
Nabors said he believes Holladay will want to clear his conscience and talk about the crimes he committed.
"I hope he will talk with us again," he said. "I believe he was sincere in wanting to talk to us."
One thing Nabors said he found unusual about Holladay is a lack of remorse.
"He didn't show any sorrow for what he had done," he said.
Even before the murders Holladay was convicted of, Hayes knew about him.
Before he was elected sheriff, Hayes was shift captain and responded to a disturbance in the bullpen at the jail, then housed on the top floor of the courthouse.
Holladay was in jail and was among those cursing and yelling at officers, calling them names, Hayes said.
"I asked Glenn Holladay why he was being so rough on law enforcement and who would be in charge," Hayes said. "He said, 'the man with the biggest gun."'
Hayes plans to attend the execution, not because he wants to see someone die, but because he wants to see justice served.
"He's been on death row 14 years," Hayes said. "Whether I agree with the death penalty or not, that's too long to see that justice is served."
District Attorney Jim Hedgspeth said he, too, plans to attend the execution.
Holladay's case was Hedgspethís first capital murder trial to prosecute.
"I know I don't have to go, but I feel like it's my responsibility in seeing the case through," he said. "These families are people I spent time with. I shared with them in their loss.
"I hope the execution brings closure to the families and brings conclusion to what 12 people and a judge said was the measure of justice which should be meted out."
Hedgspeth said Holladay's mental capability is an issue that has been raised on appeal.
"He couldn't read or write, but he's not mentally retarded," Hedgspeth said.
When traveling often between Miami and Chicago, Holladay never got far off the interstate.
"If Glenn got too far off the interstate, he couldn't read the road signs and he'd get lost," Hedgspeth said.
When he planned burglaries and he'd see a sign in a yard, he would copy the letters, then take them to someone to read for him.
In a search of his car after he was arrested, a small piece of paper with a triangle drawn on it and a number on each line of the triangle was found, Hedgspeth said.
"Everyone was trying to figure out what it meant," he said. "We got a map out and it was the number of the interstates between Chicago, St. Louis and Nashville."
At times, Holladay even held down jobs, Hedgspeth said.
"No one who suffered from mental retardation could plan out and do the things he did," hedgspeth said.
When Holladay was questioned about a rape someone said he did several years earlier, he admitted it and described the place the woman lived, what she was wearing and provided many details.
Hedgspeth said Holladay came from a good family. "He was a typical boy, but he just started getting in trouble," he said.
"He has brought just as much heartache to his own family as he has the victims' families," Hedgspeth said. "It's just a different kind of hurt."
Hedgspeth used a quote Holladay's father made to a reporter in his closing statements at trial.
"Somewhere along the way, Glenn went bad," Hedgspeth said. "This didn't have to happen. It just shows what happens when somebody goes bad."